You have just got to love those Drow. They are the very model of political correctness and inclusivity, in fact they will make a slave of almost anyone!
Well actually that is not entirely true, they blame surface elves for almost everything (as do I) and the only good elf is a dead elf in their eyes. You see even Drow have standards!
To be more specific you should expect to find Quaggoths (more of them another time), Orcs, Half-orcs, Boogins (half Quaggoth, half Orc), goblins, bugbears, dwarves (one of the Drow Slavers all time favourites), gnomes and just about anything else that can see in the dark.
I was going to give you everything you need to know about Quaggoths and Boogins this time but two things have happened, firstly I have had a really irritating cough and cold this week which has slightly cramped my style and I have decided to throw myself into Rolemaster Unified (RMU). I am only just reading the new Character Law right now and I have just read the bit about creating your own races. Wouldn't it be really cool to not just tell you about Quaggoths and Boogins but to actually create the race in RMU for you. Well I thought so. So the long and the short of it is that I will just give you a brief pen portrait this time but in a future post I will give all the stats and numbers.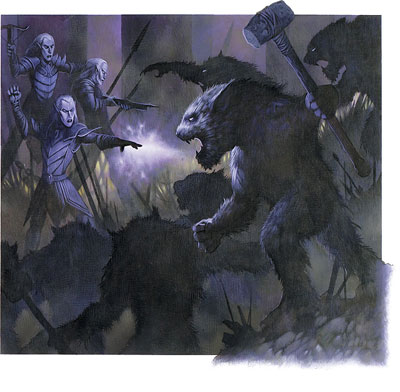 So down to business. The Quaggoth are a large hairy beasts who prefer great swords or huge clubs in battle and stand about 11′ tall as adults. They are of relatively low intelligence but most importantly they have a natural affinity to spiders of all sizes. Seeing as the Drow worship the spider goddess Lloth you can see the attraction here I hope. The Drow do like to keep Quaggoths around to train giant and huge spiders, a task they can do on long shifts as guard to stop them getting bored. You may as well kill two birds with one stone if you have the opportunity wouldn't you say? The Quaggoth do make a ver good drow slave!
A boogin is a half Quaggoth, half Orc. One would assume the Father was the orc but I wouldn't put money on it. Boogin are generally physically smaller but proportionally more intelligent and make better overseers of Quaggoth guards. They also retain the affinity with spiders. which makes them favoured by Drow. To be honest a Drow would never lower themselves to speak directly to a Quaggoth but a low-born Drow may value the spider services enough to speak to a Boogin or at least to an orc that knows a Boogin.
There is one more aspect of these two races that I want to keep back until I can give you the full stats and numbers but in my opinion these guys are the perfect monster to throw at a first level party and next time you will see why!