There are times when what you want is a world saving adventure and there are times when you just want to kill something. This little adventure is of the just kill something variety. This is really intended to be used with a beginning party of 1st  to 3rd level characters.
In many of the games I have played in it seems like Orcs get used almost as the default bad guy in beginning adventures. This time it is their weaker cousins the Goblin that is going to take the beating.
The entrance to this cave should lie on the parties route of travel and should offer some shelter from the rain or from a storm. As goblins are nocturnal the earlier the party decide to camp the more off guard the goblins will be. There are many lessons to be learned in this little side adventure, not least that it is sometimes better to run away to fight another day. The goblins operate at -75 during daylight so they will be very reluctant to chase a fleeing party. Mind you come night fall they will be out for revenge.
I have included far more goblins than any single party should be able to handle. The idea of charging in madly will probably get you killed but stealth can be your friend. The goblins are not good at coordinating but the players should be working as a team. Low level magic can work well against these 2nd level foes such as Sleep V and even projected light will give the characters the advantage.
You should remember that these round–headed imps  wear clumsy, stone clogs which certainly doesn't help when they are trying to move quietly.
Sleeping area: this area is where most of the warband sleep. They have nests made up of bits of cloth and vegetation such a furns. The goblins tend to sleep close to the walls as they feel less exposed and are not particularly trusting of their fellows. There are sleeping nests for twelve goblins here.
SPARTAK's sleeping 'nest': this area is where SPARTAK and his harem of five goblinettes spend their days doing whatever it is that goblin warlords like to do.
Communial 'Council' Area: This area is not realy used that often. The goblins prefer to be further away from even the little little daylight that reaches here. What this is used for is pre-night raid prep talks. If there are disputes to be settled then the group will gather here sort it out the in a sort of no holds barred wrestling match.
SPARTAK's bodyguards: There are four burly Goblins here who like the rest are probably sleeping on duty or else slacking off. These are the body guard for the goblin leader. They have decent cured leather breastplates (AT9) and spears that they are wielding two handed. There is a flat topped rock in the centre of this area upon which are many flat pebbles and a leather cup. The goblins entertain themselves during the long summer days couped up in here trying to flip pebbles into the cup. The body guards names are RUSLAN, PETRO, OLGA and OLEK. If they are attacked they will try and form two ranks of two with their spears to the fore. If any of them fall then they will break and flee back to (13) below.
Mess area: Small smoothish boulders have been scattered around here to serve a stools or seats. This is where the goblins come to eat and the northern wall is splattered with left overs flung from bowls and the floor to the north is covered with small bones and scraps.
Work Area: This is where the war band are fixing armour, making weapons, fixing nets and even making shoes. Goblins love machines and as such mastered using leavers (wooden beams) to raise and drop stone blocks to cold forge metals (just poundng out the shapes). Stone hammers are in abundance.
Dressing Chamber. SPARTAK has his armour (rigid leather 10) hung up on a T shaped wooden dolly. Beside it is his woolen cloak (no more than a cape on anyone else) and to the other side a low table holding his weapons (a dagger, short sword and light crossbow). He likes to make a big show of having his body guard 'dress him for battle' thinking it impresses the goblin minions.
This area is fenced off using a crude home made corral just inside the narrowest point. Inside the corral is a young mountain lion cub. The goblins are planning on training it into a war cat.
Entrance Guard Post:There are a pair of goblins here that have of course fallen asleep during their watch. They have light crossbows (Goblins love machines of all sorts) and halberds but nothing is loaded or to hand. These goblins are not brave and would rather raise the alarm and flee than die. They are called VSEVOLOD and WOLODYMYR.
Kitchen: Such as it is. A large flat stone serves as butchery block and counter. There are basic rough made kitchen impliments suh as a stone club for use as a tenderiser, an old axe used for seperating joints of meat and cauldron style cooking pots and buckets for water. There is no designated cook, it is just whoever is bottom of the pecking order at that time.
Weapons Store: The goblins are trying to make and stockpile spears, halberds and crossbows. The product of their labours are stored here in piles of shafts, piles of stone spear heads, a few halberd heads and so on. There are very few completed weapons as these are being handed out to the war parties members as soon as they are ready.
Treasure Chest!:Out of sight behind this natural pillar is a small stone coffer holding the war bands loot. Currently standing at 14bp, 9sp and some pretty stones that hold no value to non-goblins.
This area serves a dual purpose. It is SPARTAK's and his body guards latrine and it is the fall back point for his body guard. The narrowing of the cave walls means it is easier to defend but also the buckets of urine can be thrown to put out torches. The goblins much prefer total darkness.
The total warband amounts to 19 goblins. En masse they will almost certainly kill any party but their leader is no genius. He has visions of crafting a phalanx out of them where a mass of spears and halberds will make them unapproachable. Their love of machinery draws them to the light crossbow and Spartak envisions ranks of crossbow goblins marching forward in regimented fire, reload,  and advance lines protected by a forest of spears and polearms. As it is the crosbows are slow to reload and these long weapons mean goblins struggle to parry and do not carry shields.
If the party enter the cave by day many of the goblins will be sleeping, one or two may be in the kitchen area. As evening falls they ecome more active with weapons being repaired and new ones being made in the workshop area. After night fall they will take a meal in the mess area. Late at night a patrol will be sent out of five or six goblins being three spear bearers and three crossbow goblins.
Each goblin is carrying just 1d10 bronze pieces as treasure. The four bodyguard goblins have have an additional d10 copper and Spartak has an additional d10 silver. That may not sound a great deal of treasure but this is only meant to be a minor distraction. Spartak and his crew are a breakaway group from a larget goblin tribe who have visions of world domination but are probably note going to realise those dreams.
If the players attack and then withdraw the goblins will try and harry them for days. Spartak will initially want to kill all bar one of the players. If they all die then no one will be able to carry the news of his victory and spread his fame. If the losses are too great on his side, say more than four or five actual fatalities then he will just try and drive them off and count that as a victory.
All the stats you need for the goblins are on page 123 of the RMC Creatures and Treasures or 571 of RMU Creature Law.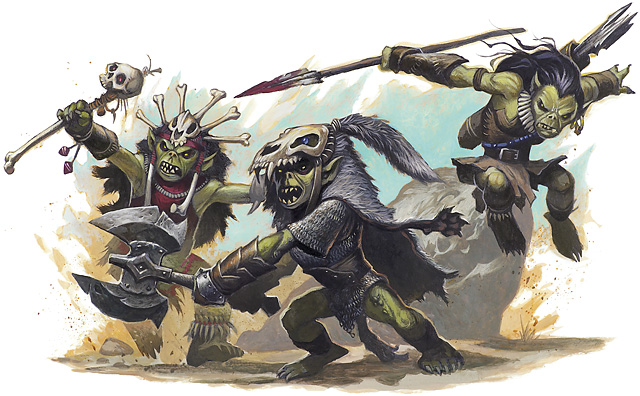 You can download a players map here.